Recently the 'artist' Jan Luc Tuymens' was convicted of plagiarism in Belgium for copying a photograph of a Belgian politician. His work, like Richard Prince's copies of Patrick Cariou's photographs of Rastas
http://www.nytimes.com/2013/04/26/arts/design/appeals-court-ruling-favors-richard-prince-in-copyright-case.html
is called "appropriation art" instead of theft.
http://artsbeat.blogs.nytimes.com/2015/01/21/belgian-artists-painting-infringes-upon-photographers-work-court-rules/?comments#permid=13948841
This is just another skirmish between painting and photography that artists who consider themselves painters are losing. Photography is now so easy, quick and ubiquitous that very little effort is needed to make an image to copy and if that fails you can always appropriate someone else's work who has more vision.
Many artists think that photography has been a boon to classical realism and the contemporary figurative arts. Nothing could be further from the truth. The usual rationalizations are- I can't afford a model- paint a kumquat until you can. I never know if my model will show up. Manet's models sometime quit in the middle of a painting. We will remember him- but probably not you. I need to turn out paintings faster- to make a living- maybe you should try accounting. I can't do movement without a photograph- check out "The Swing" by Fragonard. Look at the movement in Rococo art.. Animals won't sit still. There is more distilled cat in Goya's painting of a little nobleman with a bird that all the greeting card renderings piled end on end. The most famous animalier- Rosa Bonheur- painted all her animals from life- got off her butt and went to the zoo and farms. No snapshots for her to be copied in the comfort of her studio. Degas did it- but he had 4 years of atelier training and used it as a novel addition.. His paintings and pastels were done from life studies.The world is glutted with art- what difference does it make if your painting or mine does not make it to the market. I remember one fairly well-known artist refer to her work as "product' They are clever paintings, not great and painted prolifically from photographs. How much more mediocre art does our poor planet need? Do it because you love it- it can never be a source of income unless you are damn lucky. Forget the horrible portrait market- those botox portraits and treacly kids are an embarrassment- I know- I have done them. Oh to destroy them!
There are the most common rationalizations but the toll it takes on your work, even if you work from life is the most damaging. Walk through a museum, look at the work of El Greco- one of my favorite portraits is " Fray Hortensio Felix Paravicino"- is far from as faithfully realistic we think a portrait should be. That is exactly what has been lost. Compare the sublime Venuses of Botticelli and Titian with the Venus of a Cabanel or that of Bouguereau. Both Cabanel and Bougereau are painted from life but that earthbound, cemented quality has set in with the advent of the age of photography. The Botticelli and the Titian have the mark and style of each master and are not in anyway photo realistic. The Bouguereau and Cabanel are already reflecting the leaden eye of photography in the way the faces and figures are painted .Both of them could have been done by the same artist but not the Botticelli and the Titian. Manet was able to escape the scourge of his age and present a flesh and blood women. The face is so simply brushed unlike the plague of maniacal detail in our our contemporary photocopiers.
"The Birth of Venus" Sandro Botticelli 1485 5' '8' x 9' 2"
Titian "The Venus of Urbino" 1538 3' 11" x 5' 5"
Bouguereau "The Birth of Venus" 1863 9' 10" x 7' 2"
Alexandre Cabanel 1863 "The Birth of Venus"130 x 225 cm
Zola compared her to pink and white marzipan.
Edouard Manet "Olympia" 1863 51.4" x 74.8"
Olympia detail
Photography it has made us into little photocopiers. We copy anything, instagrams, quick grab shots, any unedited garbage that comes into our mind in the name of spontaneity. I cannot imagine how boring it is to paint one of those photo realism paintings- just as boring as it is to look at them, Those artists with the wherewithal like Jeff Koons, farm them out- he isn't going to spend his life dithering away on a tight painting while he can get a grateful art student on the cheap to do it while he schmoozes with rich patrons at MOMA openings. They aren't that hard to do- trace and match color. John Baldessari commissioned such a painting. He said that anyone with average ability could do a decent picture from a photograph- he called it "A Painting by George Walker"
http://accessibleartny.com/index.php/2010/11/baldessari-at-the-metropolitan-museum-of-art/
A depressing link to hyperreal portraits:
https://www.google.com/search?q=Hyperreal+portraits&es_sm=93&tbm=isch&tbo=u&source=univ&sa=X&ei=tNzHVOCZJpOGNsWdgMAK&ved=0CCIQsAQ&biw=1920&bih=955
There are so many of them- I don't want to single anyone out as I probably would get sued.
Compare those if you will with the elegant sensitivity of this El Greco.
El Greco Fra Hortensio Felix Paravicino 1609 60" x 49 1/4"
What are we trying to do- recreate reality in its most current accepted form- photography does it much better. Somehow distorting the work to achieve a faux naivete is dishonest- we are not little Douaniers, or primitive loincloth wearing natives painting on bark cloth in a jungle. It is a lie. Spare me those travelogue pictures done of colorful locals, shoot the American Indian painters- please!
Goya's cats from "Don Manuael Osirio de Zuniga
Fragonard "The Swing" 31 7/8" x 25 1/4"
Rosa Bonheur "The Horse Fair" 1852-55 96 1/4" x 199 1/2"
Some insights into Rosa Bonheurs working methods.
http://www.metmuseum.org/collection/the-collection-online/search/435702
Some more contemporary artists who have managed to escape the stranglehold of the photograph. They are infinitely more interesting as paintings and more successful as art and manage to avoid the easy pitfalls of cheap tricks and gimmickry.
John Graham "Portrait of a Woman" 1943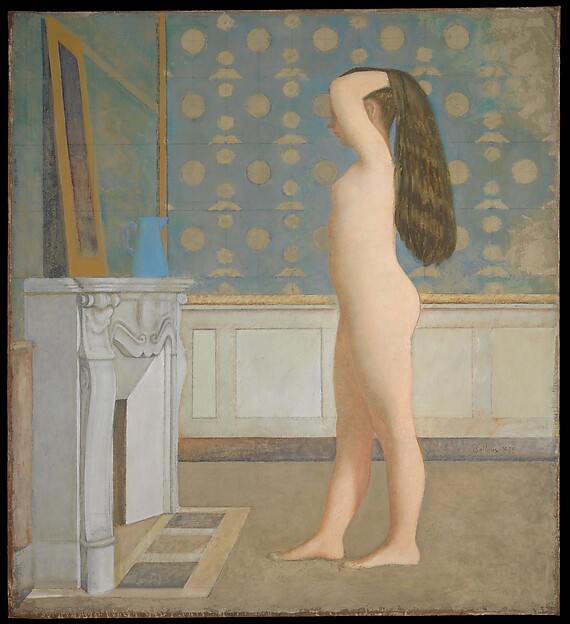 Balthus "Nude before

a Mirror" 1955 75' x 64.5"
Euan Uglow "Summer Picture" 1971-2 43" x 43.5"
Nicolas Uribe
I think Nicolas Uribe is one of the best and most original figurative paintters out there. He does use some photography but he mamages to elude its deadly grip. There are quite a few artists like Degas and Walter Sickert who used photography- but as a quide- and not as a total roadmap.
More Uribe.
http://beautifuldecay.com/2011/09/21/nicolas-uribe/
Many figurative artists are complaining that it is a field that is overlooked and marginalized. Perhaps if they looked to their own work and stopped competing with a camera maybe things would change. I cannot escape, the lure of pictorial imagery- it keeps me trapped.. In a passage of Gabriel Garcia Marquez's book "One Hundred Days of Solitude" is a description of a decaying Spanish galleon marooned in a jungle festooned with orchids. Astonishing. Inspiring.
Mastery and craftmanship are important- few bother with it today- but even skill without a point of view is just linoleum. It is the sign of untutored taste in both the artist and the patron- not surprising considering the art that de rigeur.
John Hughes- that late great and lamented art critic once mused- and I paraphrase- "it is just not a great age of art".
Ian Warburton quoted on his blog.
http://ianbevwarburton.blogspot.com/
So I repeatedly paint it out and begin again thinking about what painting is.
Exactly.