http://www.mfa.org/news/goya
From the Boston Museum's introduction.
'In the
Duchess of Alba
, the darkly clothed sitter points a finger to the ground, where the words "Solo Goya" are written in the sand. The assertion that only Goya was worthy of this commission and that only he could have pulled off such a dramatic likeness, changes the painting's focus from the aristocrat to the artist.'
The Goya exhibit "Order and Disorder" at the Boston Museum of Fine Art" is a stunning feat, bringing work from museums aound the world including the Prado, Louvre, Metropolitan, the Museum of The Rhode Island School of Design and from private collections.
Goya is a difficult artist, rarely pretty, but he is a reminder of the tremendous power to be found in art, and in painting. We are confronted by so much frippery, pomposity and shallowness in contemporary painting that it is stirring to see work that grips and moves you as well as delights.
Much has been written about Goya, Robert Hughes has an exhaustive biography- but I am only writing from my point of view- American female figurative artist circa 2014.
http://www.goodreads.com/book/show/279351.Goya
There are things I did not like about Goya exhibition,especially the callous disregard for animals and the zeal of blood sport in the hunting scenes.But there are so many surprises in the show that more than make up for that. Many of the drawings are surprisingly delightful, especially of women with their skirts being blown against their legs ( he loved women) and a crazy man dancing.. He captured motion and emotion with a few deft lines. There are of course Los Caprichos, darkly moving and bitter- his social commentary. His aquatint "Giant Seated in a Landscape" is tiny but has more power in each square inch than the most bombastic Koons.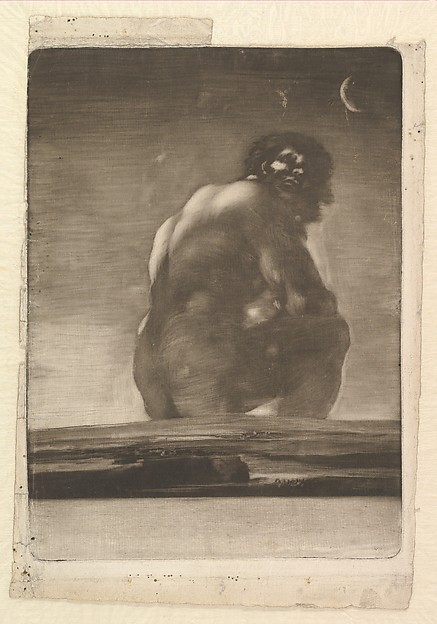 "Giant Seated in a Landscape" aquatint 11 1/4" x 8/1/4"/
This is one of my favorite Goyas.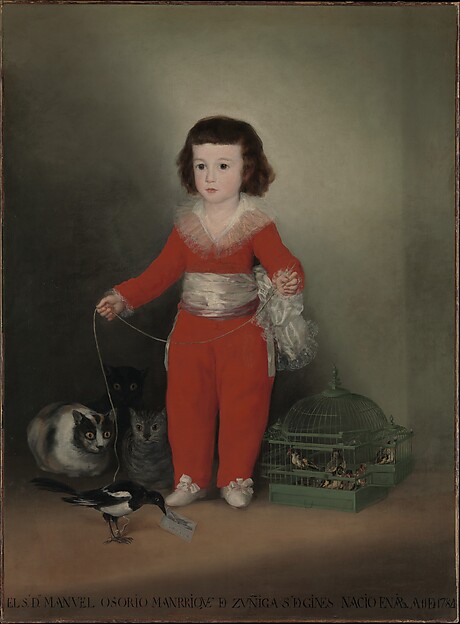 Manuel Osorio de Zuniga 50"x40" 1784-1792.

The leering black cat in the back is often obscured in reproductions or online- Robert Hughes in his biography of Goya only mentioned two. It is startling to see the full force of all three of these leering cats, barely restrained from attacking the pet bird. It is almost hilarious- especially for a cat lover like myself. No portrait of a child from a photograph has the charm of this engaging depiction. If I could get a box cutter and shred those I have done for rent money I would. Contemporary children's portaiture in all thier smarmy photographic accuracy would fail and sicken next to this luminous masterpiece.



A Very Sexy Gentilhomme:


Ferdnand de Guillemardet 1798 186 x 124cm

This is a painting Goya did rather as an example of of high style portraiture for the French market. Goya, does not get into dreary and excessive detail, but he pulled out all the stops on this elegant portrait. I had never seen this one- it is dramatic and beautiful. Goya doesn't often paint just for style and virtuosity and it was quite a charge to see this.


Goya could use his skill when he needed it, but his power was in his humanity. These are works of art in the fullest sense of the word, thrilling, charming, disturbing and wrenchingly honest. It was a rare honor to see this show. It ends January 19th 2014. Too brief.